Today, we will discuss 3 great rums from one of the world's most famous distilleries – Appleton Estate. I have picked these three rums for comparison: Appleton Estate Joy 25Y.O., 21Y.O., 15Y.O. Of course, Appleton offers more bottles than that but I had these three at hand and I can only praise them. I have recently visited Prague's Rumfest, where I tried the 12y.o. Appleton. To be honest, I was a bit nervous about it – low price, screw-on top. But it was a very nice surprise.
The origin
These rums come from the Appleton Estate distillery, which is the oldest continuously operating cane plantation and distillery in Jamaica. Rums have been produced here for more than 265 years. They distill in small batches using the traditional copper pots, aging the rums in American white oak bourbon barrels. Since 1997, Joy Spence has been the historically first female Master Blender here (she has been with Appleton since 1981 as a chemist).
Appleton Estate Joy 25 Y.O. was created to celebrate the anniversary of this Master Blender with the brand. Beautiful 20 years, which Joy Spence has made just perfect. This is a blend of rums of 25 years of age and older. It contains rums as old as 35 years (from 1981, when she joined Appleton Estate).
Appleton Estate 21 Y.O. is a blend of rums at least 21 years old. Every year, it is released in limited batches. In 2011, it won 2 gold medals in the prestigious "World Spirits Awards". It was awarded gold twice in the San Francisco World Spirit Competition in 2014 and in the same year, it was recognized by bartenders in The Bartenders Best Awards.
Appleton Estate 15 Y.O. is a blend of rums at least 15 years old. An interesting fact about this rum is that it was only introduced for the Canadian market. This means you will not get it in our country or practically any other country. Importing it is not very easy and considering Canada only allows exporting a litre of alcohol per person, you will not bring much from your vacations either.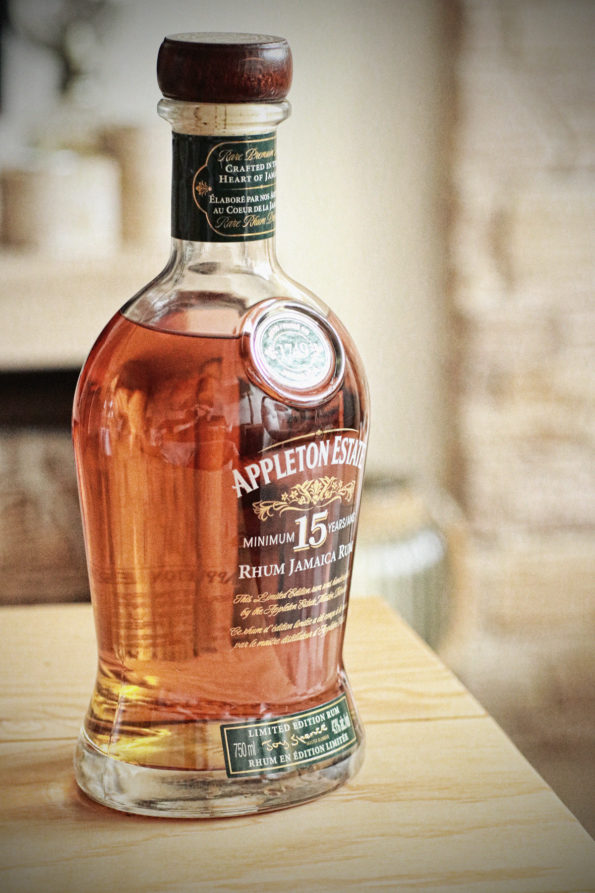 The colour
With Joy and 21Y.O, the colour is a pleasant copper, the drops flow slowly, meaning the rum is certainly not coloured or sweetened artificially. This is what Appleton is proud of. The darkest of them is surprisingly the 21Y.O. followed by Joy and the lightest is the youngest of them all – the 15Y.O., which has a honey-like colour.
The smell
All the three rums smell nicely woody, of barrels.
The smell of Joy is the lightest and the sweetest. Very intense, with nice harmonious notes of wood, spices and coffee. I can smell citruses, oranges with a hint of vanilla.
With 21 Y.O., I can smell more woody and sugar cane notes. A bit of flower notes with vanilla and a touch of chocolate.
15 Y.O. is the least woody of these three rums. But certain amount of oak barrels is definitely there. I can also smell honey, grassy notes and a bit of citruses and vanilla.
The taste
Unlike the smell, the smoothest and "sweetest" in taste was the 21 Y.O. A nicely aged and balanced woody notes, spices and coffee. The finish is longer and quite dry, with notes of almonds. The rum has 43 % of alcohol.
Joy is certainly woodier, drier and more intensive. It is very nice and pleasantly harmonious. The wood and nuts are balanced by citruses and vanilla. The finish is longer, drier and with more barrel notes than with the 21 Y.O. The rum has 45% of alcohol.
With 15 Y.O., it is clear this is the youngest of the three rums. The taste is a bit sharper, harsher and also quite intensive. This rum is on the spicy side, with woody notes, tobacco and a hint of grass. I found the finish to be of medium length (certainly shorter than with the previous two rums), I can taste vanilla and a bit of compote. The rum has 43 % of alcohol.
The bottle
Joy is a definitely a design star which will adorn any collection. The gorgeous box, the bottle with the curves of Joy Spence, massive glass with golden letters and a wooden rounded top. This is a true jewel.
15 Y.O. and 21 Y.O. have quite the same shape and a very similar concept. Only the 21Y.O. is in blue tones and 15Y.O. in green tones. Rounded shapes, a small label on the front (15 Y.O. limited edition and 21 Y.O. bottle number), a short description of the rum below its name and an oval year label below the neck. The top is very pretty, with embossed name. The 21 Y.O. came in a nice leather tube with a rum certificate. Very nice indeed.
The price of the rums
Joy – approx. CZK 10 500, 21 Y.O. – approx. CZK 2500, 15 Y.O. – approx. EUR 60-70 (Canada only).
The verdict
First, I need to say that all the thre rums are very nice. They certainly know what they're doing in Appleton. Overall, I find Appleton Estate Joy 25 Y.O. to be the best, the 21 Y.O. being right behind. If we consider the price, the 21 Y.O. is a perfect choice. If you've found your way to the less sweet rums, this is an ideal entry to the more luxurious world of quality rums. Jamaican pot stills are a sure bet, which does not need to be sweetened or flavoured.
You may purchase on Alkohol.cz:
---