The Masskara rum got the rum world quite excited this year. The Don Papa Masskara "limited edition", to be precise. The rum that was born in celebration of the wildest party on the Philippines' Negros island, going by the name of Masskara (also Smile party). The gift box was designed by Olaf Hajek, the illustrations portray the revolutionary Papa Isio under the extravagant mask from the festival full of music, dancing, colours… and masks. The final touches were those of the Stranger & Stranger studio (also responsible for the Kraken bottle design).
Beware! There is Don Papa Masskara and Don Papa Masskara. On the Czech market, you may buy an edition where the Masskara case contains the regular Don Papa bottle.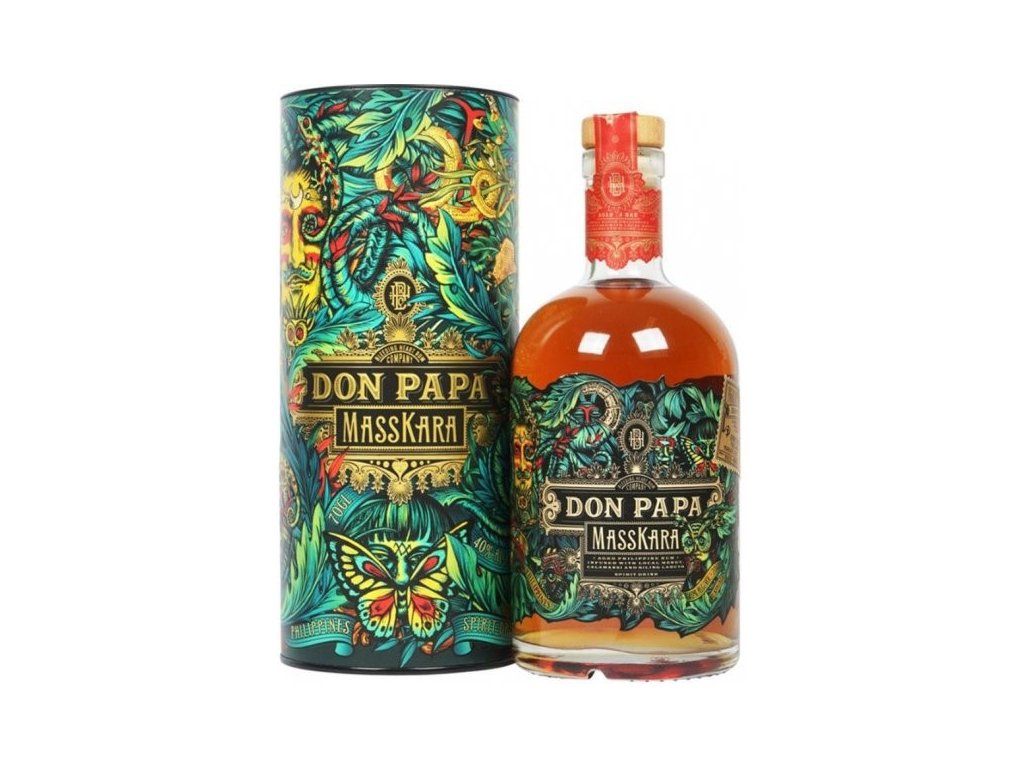 But in France, you get the real Masskara bottle. This edition is distributed in France since October 1st, 2018 by the Dugas company only for designated chain stores such as Carrefour, Auchan, Monoprix or Système U.
The green Masskara is designated for the French market only, for chain stores, and it is very unlikely that it would be available in our country, it is a "lower" and cheaper version of the 7y.o. Don Papa with shorter aging period.


Don Papa Brand Ambassador
The Masskara case containing the regular Don Papa bottle, available in CZ

The Masskara bottle marketed for France. It is officially unavailable in our country.
Both Don Papa and Don Papa Masskara rums come from the Negros Occidental island, where they age in american oak bourbon barrels under Mount Kanlaon.
What is the difference with Masskara?
According to the official label, the regular Don Papa rum was enriched by mixing in other local ingredients (outside of the distillation process and without maceration) – honey from the Kanlaon forest on the island of Negros, the Filipino citrus variety Calamondin and local Siling Labuyo chillies.
The taste of Masskara rum taste
Masskara is significantly sweeter with dominant honey notes. It actually reminds me of mead… and I have to say that even though I like sweet rums, this is a bit too much for me. My wife, on the other hand, got very fond of this bottle. It reminds me of rum elixirs even though it has solid 40 %.
Limited edition?
Yes, you can read this is a limited edition but the Dugas company plans to keep Masskara available in supermarkets for 2018 and 2019. This suggests that it is more of a widespread edition (with a lower price tag) like the regular edition of Don Papa rather than a limited edition.
Where to buy Don Papa Masskara?
Like I said, Masskara is currently only designated for distribution in French chain stores and officially unavailable in our country. You may either buy the Masskara gift case with the regular Don Papa bottle (a little under CZK 1 000) or to buy the real Don Papa Masskara from Alkohol.cz or other retailers.
Whatever your choice, enjoy!
Sources:
---