After the successful Cihuatan Nahual, which we also reviewed, the Salvadoran LICORERA CIHUATÁN S.A. DE C.V. distillery brings another limited edition (17 914 bottles) with a gorgeous blue bottle and strength of 47.5 %. Cihuatan Nikté.
The story
The story of Cihuatan Nikté relates to the old Mayan heritage. The name is inspired by Kay Nikté, Mayan festival of floweres. During a big celebration under moonlight, the old Mayans sacrificed sacred flower petals to a goddess named Ix-Chel.
Master Blender Gabriela Ayala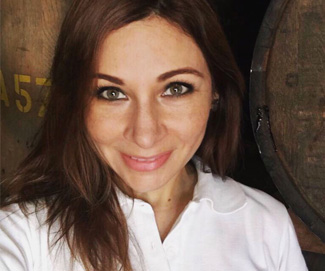 Gabriela Ayala, Cihuatan's Master Blender drew inspiration from the mystical flower known as the Night Queen, or Sac Nikté in Nahuatu ("sac" meaning white). This fascinating flower blooms for just one night, filling the air with delightful smells of honey and jasmine. It withers before sunrise. In Nikté, she captured the unforgettable experience of witnessing the ephemeral blossom of the Night Queen. She discovered this flower as a child in her grandmother's garden.
The bottle
The gorgeous bottle and tube in bright blue colour deserve a few lines. This design is a work of Appartement 103. It has a beautiful inlayed wooden top, which may be used as a beautiful glass stand. 🙂
The colour
Bright orange and very intense, which you may see in the image below:
The smell and taste
The smell is very pleasant, subtle. Sweetish fruit smoothness with a slight bite.
The taste shows its strenght and harshness, with a nicely long finish. The wooden notes are smooth and do not irritate. It reminds me a bit of a smooth whisky.
Comparison with Nahual
You cannot help comparing it with its predecessor, Cihuatan Nahual. I find it a bit smoother than Nahual and the packaging definitely looks much better. Of course there are more of them. Come what may, you need both of them 🙂 So buy this one, kids – a nice and tasty limited edition with a fair price tag.
---