The so-called Legendario is a very popular rum drink, popular in Spain, Cuba and Czechia. However, there are way too many myths and half-truths surrounding it for my liking. Before I get down to business, let me give you a brief introduction to the subject. With Legendario Elixir being my fav, I always keep a bottle at home, sipping it regularly. Let's make sense of some facts about its origins.
Not familiar with Legendario Elixir? If you like your rum sweet, go for it. This is a rum drink often gleefully labelled as sickly sweet ?.  A very sweet and delicious tasting drink. Made from several Añejo rums (at least seven years old according to the producers) using the traditional Cuban method. The process starts by extracting the juice from the sugar cane to get the molasses, then allowing it to ferment and distill. The Añejo rums blend is then aged for 2-4 years in American white oak casks. The raisins are left macerating in the blend for at least a month, pressed and added in the form of delicious juice to the final drink. It is also important to note that only demineralised water is used in the process. That's where the taste of the macerated raisins, caramel and oranges comes from, making Legendario Elixir a drink of an exceptional taste.
Let's start with digging deeper into the Legendario brand. To be clear, Legendario Elixir is not the only bottle of this name – on alcohol.cz you can find 5 items from this brand, all truly honest rums. Legendario is simply a brand that makes rums (not just Legendario), founded as a family business in Havana, Cuba back in 1946 (now sadly nationalized). The very first Legendario rum was made in the historical centre at the Havana Bocoy site, a rum producer since the 16th century. However, Legendario is based in Spain and imports all its drinks from Havana. Legendario rums and elixirs are produced in 6 distilleries in Cuba: Matanzas, Villa Clara, Havana and 3 in Pinar del Rio.
So is Legendario Elixir de Cuba a Rum?
Not really. There is the catch, Legendario Elixir is basically Punch au Rhum, which can be loosely translated as rum punch. As mentioned above, even its production suggests more of a liqueur. Legendario Elixir is also a very thick drink, with drops running slowly and heavily down the glass. Precisely because it is not a pure rum, with more syrupy or honey-like consistency. According to Cuba and Spain laws, a drink labelled rum cannot contain more than 20 grams of sugar per litre. Anything above must be labelled as an elixir, locally described as liqueur or rather commonly, a punch.
Legendario Elixir de Cuba is a perfect gift – ladies favorite 🙂
OK, let's spill the beans. Being whatever it is, the Legendario Elixir de Cuba is a very interesting, smooth and sweet drink. A great start for people who want to get into the world of rums. It is also very popular ladies precisely because of its smooth and sweet taste. In CZ, place your order on Alkohol.cz for a friendly 469 CZK. The bottles are pretty cute – with a Cuban flag and in some shops even a Cuban hat. Or take your pick from various e-shops on Heureka: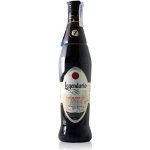 ---