I discovered Zaka rums at Trnava Rumfest, where the brand had a stand next to Joshua Singh and his 1423.dk. The special feature of these rums is that they contain no added sugar (they are marketed asnatural rums), offering three bottles, each in numberless limited edition of 3500 pieces. They are aged in France. These are relatively young rums – 7 to 10 years in American or French oak barrels. Despite their "youth", they all taste great.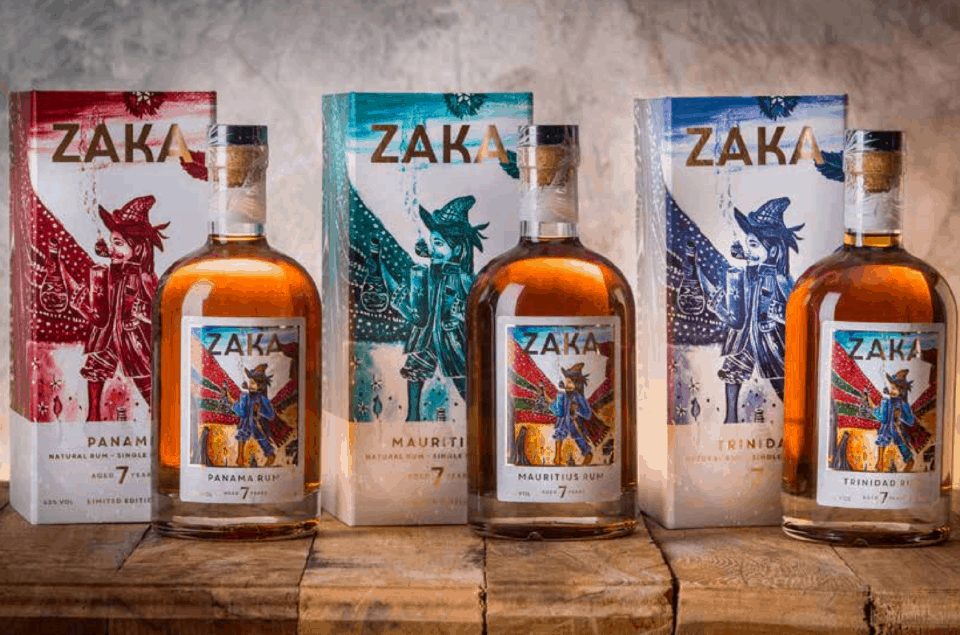 The story
In woodoo, Zaka (or Azaka) is the god of farming and agriculture, often depicted as a villlager, close to the common folk. This was the intention of Zaka rums as well.
It pays a tribute to all the growers and farmers, who have been tirelessly working on the plantations, handing down their experience. This is how Zaka rums came to being, claiming on the box to be one of the best rums in the world.
Zaka claims to respect its tradition and origin, that's why it contains no added sugar. Its creation was going back to basics, inspired by the traditional manufacture, the land and culture. Drinking this rum symbolises sharing and generosity. Zaka rum claims to symbolize the "Spirit of Rum".
The colour
The rums are described as dark by the producer but they are lighter in colour when poured. I would say young honey (light golden).
What is the taste and smell of Zaka rums?
Zaka Mauritius
On the island of Mauritius, rum was associated with the celebrations of the end of the harvest among the peasants and Indian and African slaves.
This rum is a blend of rums distilled in years 2009 to 2012. A mixture of molasses rum and sugar-cane juice rum. Distilled in both pot still and column stills, aged for 7 to 10 years in American and French oak barrels.
The smell
Slightly alcoholic, bitter-sweet, light and smooth at the same time. The official sources note olives, roasted caramel, sweet spices and pepper.
The taste
Mid-length, sweeter and stronger finish with slightly bitter notes. Very smooth. The official sources note peaches, pepper with jasmine and roses.
Zaka Trinidad
Distilled mainly in pot stills with the addition of 4 columns, aged for 7 to 10 years in bourbon barrels. This rum contains a trace amount of sugar, which is not artificially added but comes from the ageing in barrels and the interaction with the bourbon barrels. Czech importer on the Trinidadian bottle:
It is a delicate, floral rum – an expression of modernity, with rich fruity notes exploding with citruses and pear.

Petr Blažek, Quality Drinks
In Trinidad, rum is connected to folklore celebrations of fauna and flora protectors, the so-called "Papa Bois".
The smell
It has very intensive smell with sweet notes. Heavier and more intensive than Mauritius. Official sources identify bananas, green olives, prunes and almond (what?!) cake. I am no expert in almond cakes and distinguishing them from almond buns or almond frosting but… whatever. 🙂
The taste
It is sweeter and even the bitter notes are more intensive than with Mauritius. Everything is more intensive. Official sources describe mango, papaya, woody notes, prunes and candied fruits. In the finish, you may notice smoke, caramel and cinnamon.
Zaka Panama
This rum comes from the Herrera province on Azuero peninsula, the home of the best local rums. It was double-distilled using pot still distillation, and aged for 7 to 10 years in American oak bourbon barrels (to be precise, a combination of bourbon and first-fill barrels). This rum contains a trace amount of sugar, which is not artificially added but comes from the ageing in barrels and the interaction with the bourbon barrels.
The smell
Certainly the smoothest, sweetest and slightly floral, with notes of sweet pastry.
The taste
The sweetest and heaviest of all the rums, with the longest finish. The notes in the finish are very rich and very intensive, even though a bit shorter. You may taste woody notes, caramel and a bit of sweet spices. Panama is my personal winner.
The verdict
You can probably guess I am hooked on Zaka and I certainly was not alone in Trnava. Zaka rums is a great unsweetened rum and everyone will choose from the three-bottle series . Try it and share your generosity.
Who is behind Zaka?
The Zaka brand belongs to Bruno Le Merle, who founded Challenger Spirits on Mauritius in 2017.
This new brand aims at combining authentic, traditional rum and brave innovations into a unique mix unlike any other. Zaka is active on Facebook and Instagram.
For plenty of insider information and sources including the photo, I would like to thank Bruno Le Merle of Zaka and Petr Blažek of Quality Drinks.
---